Relax, unwind and enjoy mornings at the movies
Weekly Monday – Thursday | $9.50 tickets for 60+ members
We're rewarding our over 60 guests with even more dedicated sessions every week to a hand-picked selection of movies. Enjoy the latest movies during the first two sessions on Thursdays & first session on Tuesdays. Plus, don't miss our additional movie picks during the first sessions on Mondays & Wednesdays.
Mornings at the Movies is brought to you by the Fred Hollows Foundation.
Open Caption sessions available! The second Mornings at the Movies session on Thursdays will be Open Captions when available.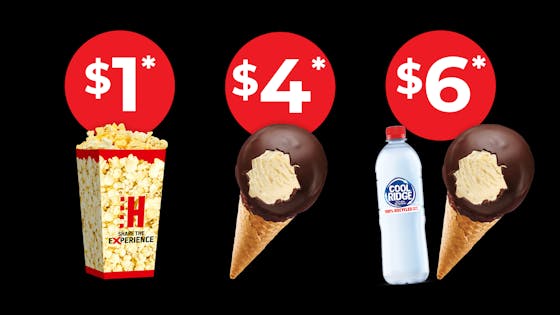 Don't forget to pick up a snack sized popcorn at these screenings for just $1
If popcorn isn't your thing, grab a $4 Choc Top or a $6 600ml water and Choc Top combo to satisfy your candy bar cravings.
*Online booking fees and Xtremescreen, D-BOX, ONYX & 3D surcharges may apply. Screenings run on the first two sessions on Thursdays, first session on Mondays, Tuesdays and Wednesdays. Sessions are subject to change without notice. $1 36oz snack size popcorn available for HOYTS Rewards Members who are 60 years or older and valid for Mornings at the Movies sessions on Monday-Thursday for the relevant movie.