Make your next movie a big one
As technology evolves, so does filmmaking. And with movies becoming more impressive, it makes sense to experience them in the most exciting way possible. HOYTS Xtremescreens are our largest auditoriums boasting the biggest and loudest cinema experience on offer. They're the perfect way to experience the biggest blockbusters, mindboggling special effects, epic battles and classic thrills.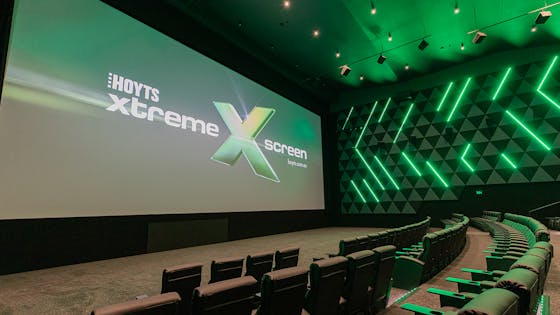 Blockbuster worthy
With extreme colour, comfort and sound, HOYTS Xtremescreen is your ticket to experience the mega blockbusters the way they are meant to be seen. With state-of-the-art screens and breathtaking sound, be ready to experience more than just the movie and simply be blown away. Experience multi-dimensional sound with incredible clarity with Dolby Atmos® at select HOYTS cinemas.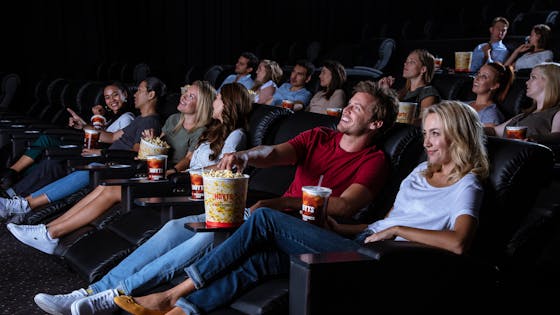 More comfort, bigger seating
To fully immerse yourself in the big screen experience, you don't need to compromise on superior comfort. That's why HOYTS Xtremescreen cinemas also feature our signature extra-comfy powered recliners at select HOYTS cinemas. They're comfier, spacious and boast extra legroom, so you can experience the biggest and loudest cinema experience on offer in style.
Book this space
Blow your staff and clients away with a big sound and big screen cinema experience. HOYTS Xtremescreen cinemas are available for private screening bookings, corporate events like functions, presentations, workshops, meetings, as well as team building or VIP events and much more.
Available at select HOYTS cinemas
HOYTS Recliners are not available at ACE HOYTS Midland Gate, Arndale, Garden City, Joondalup, Melbourne Central and Penrith.